In December, 2003, the International Research Center for Traditional Polyphony at Tbilisi State Conservatoire organized a field expedition to Dmanisi to settlements of Svans relocated to Lower Kartli in 1988 due to natural disaster.
Director of the expedition was Nato Zumbadze, PhD, assistant professor at Georgian Folk Music Department. Other members of the group were Music History Department students Otar Kapanadze, Nino Nadirashvili and Teona Rukhadze, and video technician Lasha Martashvili.
The last days of December were bleary in Dmanisi, but the hosts there were warm-hearted and welcoming.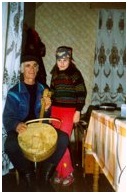 We recorded oral accounts from Zhivlen Chkhetiani (64), Nikoloz Pakeliani (70) and Guram Chkhvimiani (50) containing significant information about various surviving and forgotten rituals in Svaneti.
Dmanisians claim that, of the ancient rituals surviving in Svaneti, the most widely-celebrated is Lamproba (also called Limparia). This feast day is celebrated on the appropriate day aligning with the lunar calendar, as opposed to a fixed day of the calendar, and almost always falls in the middle of February. On the day before the feast day wooden torches are made for each man of the village. Before dawn all the men light their torches and take them to the Church of St. George, where they pray and sing the hymn to St. George, Jgragish. After this the ritual is continued outside around a fire, singing various hymns and performing round dances. Dmanisians believe that Lamproba has a more symbolic context today, and has lost its ancient function. They told us of a legend about the origin of the feast day. Georgian ethnographers and ethnomusicologists agree that this ritual originated in pagan times.
Vakhtang and Zhivlen Chkhetiani shared important information with us concerning the traditions of Mekvleoba (judging one's luck for the coming year based on the first person to enter the house after the New Year's arrival) and Khelis Gakhsna, and rituals dedicated to weather deities Ga and Elia (originally a pagan deity, now transformed to signify the Christian prophet Elijah). They also told us at length about Lipanali, the ritual cycle for honoring the souls of the dead. As they tell us, there was a women's ritual in Svaneti called Barboli (Barbali), a children's game called bombgha, and a theatrical ritual called Ughlashoba. They mentioned that the round dances Mirmikela, Jangulashi and Shgarida have been lost today.
Misha Tsindeliani (58) played melodies on the chuniri for us: Mirangula, Lazhghvash, Vitsbil-Matsbil, etc. He also described the tradition of making the chuniri and changi, how they should be maintained, and legends of their origins.
We also recorded Natela Gvarniani (79), recalling prayers to heal children afflicted with infectious disease, Mariam Kordzaia (64) and Maiso Subeliani (38), singing Akvnis Nanebi (lullabies) and other songs.
We recorded the ensemble Shgarida performing ancient hymns and songs restored by director Gurgen Gurchiani. Between 1985-1998, Gurchiani traveled throughout Svaneti, recording separate voice parts for Svan hymns as sung by singers of advanced age such as Gierg Pirtskhelani, Maksime Gvarliani, Uka and Sepe Vezdeni. Using these recordings, he was able to reconstruct many of the hymns.
In January, 2004, the ensemble Shgarida performed a solo concert at the Grand Hall of the Tbilisi Conservatoire, in which they performed the restored hymns O Krisdeshi, Tskhau Krisdeshi, Qaiosuma, Ga, Zashinava, and others.
Friendship between the Dmanisi Svans and the fieldwork team members continues to this day.