In August-September 2005, the International Research Center for Traditional Polyphony organized a musicological field expedition to Khelvachauri District in Achara. This was done as part of the UNESCO pro gram. Director of the expedition was Nato Zumbadze, Ph.D. at the Georgian Folk Music Department. Other members of the group were laboratory assistant Otar Kapanadze, students Teona Rukhadze and Salome Tsetskhladze, and video technician Lasha Martashvili.
The aim of the expedition was documentation of the musical examples surviving in the villages of Khelvachauri district. During two weeks we visited about ten villages and recorded a large amount of both musical and verbal material on 7 minidisks, 150 minutes each; we also took about 300 photos and several video clips.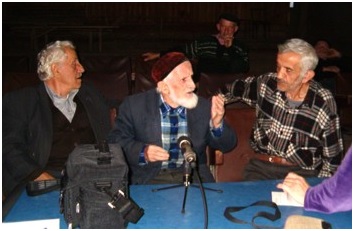 In 1989 a field expedition was organized by Edisher Garaqanidze, Nato Zumbadze and Ketevan Baiashvili, researchers from Tbilisi State Conservatoire. At that time they visited various districts of Achara, including Machakhela Gorge. During the current visit we found out that the natives still remembered the participants of the earlier expedition. The traditionally hospitable Acharans received us with exceptional warmth and did their best to help us when needed.
First we visited the village of Zemo Chkhutuneti, in Machakhela Gorge, and spent several pleasant days there. We recorded several Acharan folk songs (including Naduri, Maqruli, Osa, Nai–Nai and Nanina), instrumental melodies and a few examples of town-style songs. These were performed by wonderful old singers Khusein (Valiko) Kobuladze, Zakro Perselidze and Suleiman (Iago) Nagervadze. Thanks to the digital camera we managed to film the virtuoso dance of 82-year-old Valiko Kobuladze. There is hardly anyone who knows the oldest Acharan dance moves. Vladimer Arjevanidze from the village of Kedkedi came to the village of Zemo Chkhutuneti to help his neighbours with several songs, and played some instrumental pieces on the panduri for us as well.  In Zemo Chkhutuneti, together with musical examples, we recorded significant information on the names of voices, form of performance, origin of songs, traditional repertoire and various rituals.
We also visited the neighbouring villages of Kvemo Chkhutuneti and Chikuneti. We found little of musical interest in Kvemo Chkhutuneti, but collected plenty of verbal information including incantations. Here we met Haidar Kakhidze, who told us many interesting stories about Acharan songs, dances, instruments, and, in general, about various traditions common in Machakhela Gorge.
From the material recorded in the village of Chikuneti, of particular interest are the instrumental pieces performed by 91-year-old Akhmed Gabrushidze on the garmoni (accordion). On behalf of our expedition, we would like to express our deepest gratitude to Shota Kirkitadze, who was our instructor in Chikuneti and performed  a number of instrumental pieces for us.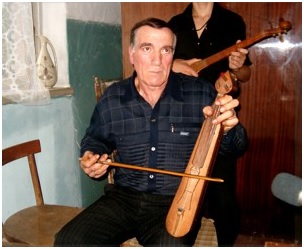 We recorded mostly instrumental melodies and monophonic songs in the villages of Kirnati and Maradidi. Shakro Kakhaberidze from Kirnati played old variants of Khorumi and Gandagana, and several song melodies on the duduki.  Noteworthy are women's songs Gelino, Nai-Nai, Shairebi and instrumental pieces for panduri recorded in  Maradidi.
We have warm memories of our visit to Kamil Kakhidze in the village of Kobaleti. Apart from being a very good performer, Kamil is a witty man; he "presented" us with impromptu comic verses written about each member of our expedition. From him we recorded melodies played on salamuri, duduki and klarneti (clarinet). We also sang several songs together with Kamil.
In the village of Urekhi we met Zurab Varshanidze, a garmoni master. His instruments are indeed distinguished by their magnificent sound. We recorded Zurab's and his brother's virtuoso performance of dance melodies.
Our meeting with the Khoroishvili family in the village of Zemo Jocho was interesting. Of particular mention are Acharan instrumental melodies that the father of the family Vakhtang Khoroishvili played on kemencha (Turkish bowed instrument), as only a few Acharan kemencha pieces have ever been recorded.
To our regret, for various reasons, we could not manage to visit several performers, including the group of singers in the village of Tkhilnari, and a young chiboni player who, according to the natives, is the only one in the whole district. We could not find anyone who would play instrumental pieces on chonguri, or sing Acharan lullabies. This indicates once again, that traditional art is being forgotten in this district, as well as in many other parts of Georgia. But, it is important to mention that elderly singers from Machakhela Gorge are willing to create a folk ensemble in their region. This will help many songs survive from disappearance.
In closing, I would make a special mention of people's hospitality in Achara; this is something rarely found anywhere. The expedition members made good friends with local performers and hosts. On behalf on the expedition I would like to express our deepest gratitude to the Khelvachauri local government administration, and especially to Iakob Abashidze; it would have been very difficult for us to carry out our work without his help. We are very grateful to all our hosts for their cordial welcome and assiduous guidance.