As part of UNESCO program, the International Research Center for Traditional Polyphony organized a field expedition to Lentekhi and Tsageri from July 16 – August 4, 2004. Participants were Malkhaz Erkvanidze and Ketevan Matiashvili, faculty at the Consertvatoire's Georgian Folk Music Department. During the expedition we visited Lentekhi's villages of Kakhura, Tekali, Khopuri, Tsana and Kheledi.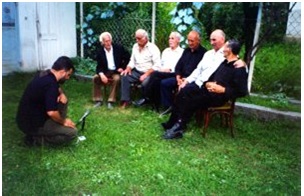 On the first day of the expedition, we recorded about ten songs with chuniri accompaniment performed by Lentekhi resident Eter (Shura) Liparteliani (62).
The men's ensemble Mizhe Nari (Sunlight) is comprised of residents from the Choluri area. The ensemble was created in the 1990s and its members are Vaso Babluani, Vakhtang Mukbaniani, Valodia Babluani, Mamuka Mukbaniani, Gerasime Zurabiani and Davit Mukbaniani. Founder and director of the group is Jumber Mukbaniani (74) who was a member of the Lentekhi Song and Dance Ensemble in the 1960s when it was directed by Jokia Meshveliani, Honored Artist of Georgia. We met this group in the village of Tekali at the home of Jumber Mukbaniani. Despite the fact that his wife had died two years earlier and he had not sung since then, Jumber did not refuse to sing for us, stressing that the work we were doing was very important. We recorded seven songs from the ensemble and videotaped fragments of round dances. Significantly, young people and old alike perform in the ensemble, indicating that there is much interest in their local folklore.
Nana Zurabiani (34) recalled an incantation that her grandmother used to speak to protect livestock from wild animals. We also recorded several such incantations from Sara Shavrishiani (75).
In the village of Khopuri we met the family of Shota Kurasbediani (74). Here a group of four men gathered: Kurasbediani himeslf, Boris Gugava, Amiran and Gulad Liparteliani, all former members of Jokia Meshveliani's ensemble. We recorded five of their songs. It is worth noting that the Lower Svan variants of Tsmindao Ghmerto and Alilo exist only in the Georgian Language.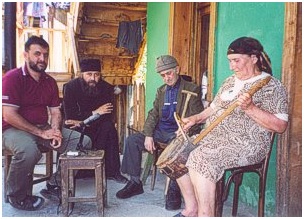 In the village of Kheledi, we visited the Kardava family. Shalva Kardava (83) and his wife, Magrapi Charkseliani barely managed to recall a couple of songs. Here we also met the head of the village, Jambul Gazdeliani (72), from whom we also made four recordings of songs and instrumentals for the chuniri, as he is a skilful chuniri player. He apologized that he couldn't sing more, as he was still mourning the death of his mother.
In Lentekhi we visited Tsiala Gurabanidze, the widow of Jokia Meshveliani. She received us very graciously and gave us access to materials from the family archive.
We were fortunate to attend concerts at the Lentekhi House of Culture by performers from local ensembles existing throughout the region. The Lentekhi House of Culture is directed by Gela Gugava. Sadly, the performances we saw led us to believe that most of today's performers in Lower Svaneti have lost connection with their traditions. Their repertoire was sparse, and all ensembles seemed to sing the same songs, many of which are of non-local origin (Georgian, as opposed to Svan) and accompanied by panduri.
Our expedition to Tsageri district took us to the regional center, the town of Tsageri, and to the village of Chkhuteli. We met the folk group based at the Tsageri House of Culture. The group is directed by Zaza Qurashvili, and its members include Tamaz Kopaliani, Sozar Bendeliani and Aleksandre Gogidze. They sang eight Lechkhumian songs for us, as well as several songs from other parts of Georgia.
We were very pleased to meet an ensemble of elderly men called Lechkhumi. This ensemble was established in 1974, and is directed by Rapiel Kopaliani (79). This group was originally called Salkhino when it was directed by Davit Kopaliani, Rapiel's father. None of the original members of Salkhino are alive. Salkhino was recorded in 1967 by Grigol Chkhikvadze, professor at the Conservatoire.
The aim of the six-member ensemble Lechkhumi is to preserve local Lechkhumian songs, passing them to future generation. The members of the ensemble are Rapiel Kopaliani (79), Guja Chakvetadze (75), Grigol Bendeliani (74), Jumber Saghinadze (76), Vilgelm Kopaliani (68) and Otar Saghinadze (74). We recorded 32 Lechkhumian songs from the ensemble.
In the neighboring village of Chkhuteli, Shalva Kvirikashvili (68), Omar Akhvlediani (73), Jemal Tvaradze (63), Shalva Svanidze (72), Davit Svanidze (70) and Grigol Meshveliani (67) sang eight songs for us.
During the expedition we also made video copies of material recorded sometime in the 1970s. Included in this footage are performances by the Lentekhi Song and Dance Ensemble. There was also video footage of ensembles Mizhe Nari and Lechkhumi. This material will be preserved at the Conservatoire's International Research Center for Traditional Polyphony.
We believe that our expedition was partly successful, and gave us an idea of what work could be done in these places in the future. The villages of Kheledi (which has been called Singers' Village) and a few other villages disappointed us. Many people were not at home, away for the summer. This showed us that the summer is not the best time for such expeditions in Georgia. So much work takes place at this time of year that it is difficult to gather people for singing. In the village of Kakhura there is only one man who is known as a source of knowledge on local ancient traditions, and he was not at home. In Khopuri we were inhibited due to lack of transport, preventing us from recording women's repertoire. In fact, we did not record any women's songs during the expedition, which we consider most unfortunate. We did, however, record many names and addresses which should help us in future visits.
We had also wished to meet with Ushguli villagers, but due to transportation difficulties we were unable to go there. Instead, we went to the dedication of the new church in Tsana, one of the highest villages in Lentekhi. Villagers from Ushguli were supposed to be there as well, but for some reason they did not come.
The members of the expedition would like to thank all those who helped us throughout the course of our work: Besarion Liparteliani (student at the Tbilisi Theological Seminary), Gulad Liparteliani, Tamaz Kopaliani and Zaza Qurashvili. Special thanks to Father Ioseb (Niguriani), local priest of the Tsageri-Lentekhi Eparchy, without whose moral and practical guidance the expedition would not have been so successful.