As part of UNESCO program, the International Research Center for Traditional Polyphony together with the International Centre for Georgian Folk Song organized a field expedition to Ozurgeti from April 26-30, 2004. Participants included researchers from the Conservatoire Tinatin Zhvania, Ketevan Matiashvili, Nino Kalandadze, Lela Makarashvili, and students Mikheil Javakhishvili, Nino Nadirashvili and Nino Nikoleishvili.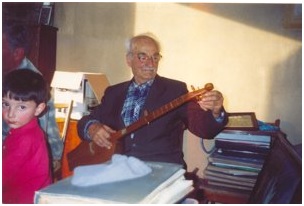 Gurian musical dialect has always received much attention in the Georgian Folk Music Department. In 1949, Vladimer Akhobadze (1918-1971) recorded eleven ancient Gurian church hymns performed by famous Gurian singers and chanters Artem Erkomaishvili, Varlam Simonishvili and Dimitri Patarava. In 1959, Kakhi Rosebashvili (1930-1988) recorded melodies played on the ancient Georgian panpipes called soinari in Guria, and the Gurian work song Qanuri in the Chokhatauri district. In 1960, Akhobadze recorded 30 songs in Guria's Lanchkhuti district, 15 in Chokhatauri and 50 in Ozurgeti, most of which were work songs. In 1963, Grigol Chkhikvadze (1900-1986) recorded 25 songs in the village of Likhauri, Ozurgeti district. In 1964, Otar Chijavadze (1919-1998) recorded 80 songs in Lanchkhuti, 23 in Chokhatauri, and in 1965, 80 songs in Chokhatauri. In 1965, Artem Erkomaishvili was brought to Tbilisi from Makvaneti to restore ancient Gurian hymns. He was an unparalleled expert of ancient Gurian church chant and an eminent song-master. The Conservatoire recorded Erkomaishvili singing individual voice parts for 105 church songs. In the 1970s, Mindia Zhordania (1929-1978) and Kukuri Chokhonelidze (1940-2004) made several field expeditions to Guria and Achara (Kobuleti and Batumi) to record Gurian folk songs. In 1990, Edisher Garaqanidze (1957-1998) led a field expedition to Chokhatauri together with German ethnomusicologist Susanne Ziegler.
The purpose of our expedition to the village of Likhauri was to visit Karlo Urushadze (77), one of the greatest experts on the Gurian singing tradition. We especially hoped to record Gurian repertoire for chonguri. We made recordings of four different tunings for the chonguri .
We arranged a meeting of three great Gurian singers: Karlo Urushadze, Guri Sikharulidze (73) and Valerian Berishvili (87). Despite the fact that they were singing together for the first time, they were able to perform many old songs, including Chven Mshvidoba, Me Rustveli, Kalos Khelkhvavi, Mravalzhamieri, Patara Saqvarelo, Tsamokruli and Shavi Shashvi.
We made copies of materials from the sound, photo and video archives of the local museums in Ozurgeti and Chokhatauri. This material pertains to old singers and chanters in Guria.