Anyone listening to Gurian polyphonic songs will wonder: what caused such a development of musical thinking among these people?  It is very difficult to answer this question, but the interest to understand it again is so great that we arranged another expedition in Guria; this time we chose the Gurian mountains – the village of  Surebi in Chokhatauri district. We are well aware that old connoisseurs of Georgian musical treasury pass away with time, but each expedition is full of hope to find something precious and interesting.
The expedition was organized on June 13-17, 2006, and included two employees of the Georgian Folk Music Department of Tbilisi State Conservatoire – Otar Kapanadze and Davit Shughliashvili. To our delight we were joined by Levan Ghlonti, a film director, and Orest Todua, a cameraman. They intended to film our expedition and use it for a short documentary. The youngest member of the expedition – 12 year-old Ivane Ghlonti, turned our journey into a cheerful one. Another advantage of our cinematographer friends was  the use of Levan's jeep, which was indispensable.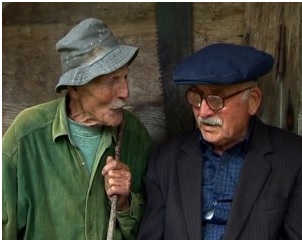 In the village of Shua Surebi our hosts were Ramiz and Giorgi Ramishvili, a father and a son.  They live in a very special spot – two kilometers walk uphill from the main road. Their house, which stands alone in the forest, has an amazing view of magnificently beautiful Gurian mountains.
We started seeking singers next morning with the help of our host Giorgi Ramishvili. First we visited 92-year-old Leo Berishvili. The same evening we collected old Gurian songs from his neighbors, somewhat younger singers, at Leo's house. These were Ismail, Jemal and Badri Shatirishvili, and Guliver Trapaidze. Unfortunately another singer of Leo's generation Chachia (Mikheil) Trapaidze could not come due to illness.
Everybody looked delighted by our initiative. It turned out, they had not gathered to sing for years now. And this was obvious – they interrupted most of the songs in the middle due to the lack of singing together. We recorded 22 songs in this way – some fully, others in fragments. Together with old Gurian songs such as Shvidkatsa, Nanina, Vakhtanguri, Shalva Chemo Sikharulo, Chven Mshvidoba and others, these included the songs from the Soviet epoch such as Lenin Oktombris Belado, Simghera Stalinze, Bakhmaro, Chvens poetebs Mtserlebsa, etc.
They were displeased with themselves for their forgetfulness and lack of practice. But I remember the words that one of them said, from the bottom of his heart: God bless you! It's been so long since we have sung in three voices together. And indeed, it was apparent that had they gathered systematically, they would recollect and revive many old songs. That day they aligned their efforts in a way, and agreed to meet again the following day.
Next day another singer Bichiko (Shota) Berishvili joined them, and this cheered everybody. They had long "argument" on tuning their voices, but in the end they agreed on an interpretation of a few songs – Maqruli, Lale, the lesser known ones Aba Dzmebo Kvlav Shevavsot, Mapindzelsa and others.
We asked them to recollect the famous work song Surebis Naduri, also called Qanuri. In the beginning they refused, but at our desperate request and after several attempts, where we joined the bass, the tunes of Qanuri, or to be more precise its reflection, was heard . . .   Here we were obsessed by both joy and regret; we could watch the phantom of a magnificent treasury, the spirits of the ancestors, who created this marvelous music, and the part of whose life was this world-important riches.  Our friends documented this on videotape.
We returned to Giorgi's house late that evening, and had a long talk on the past day at supper.
Next day we visited Bichiko Berishvili, who told us about various songs and traditions, sang with the panduri accompaniment, recollected the round-dance song Partsakuku, etc. We recorded a mourning song from his neighbor Simona Dolidze.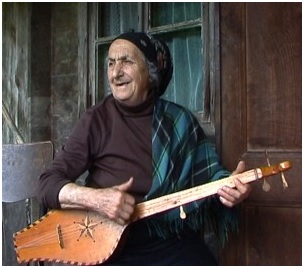 After the visit at Bichiko's house we went to the village of Zemo Surebi to meet a woman-singer of krimanchuli, Luba Chkuaseli-Kikvadze. We knew from the singers in Surebi how good she was at this.
We were heading to the highest village in Guria and each turn of the winding slope opened new colours and stunning views. Our Jeep drove almost impassable roads. Finally we reached Luba's beautiful wooden house. Once again we took pleasure in watching the vineyards and fields stretched on the slopes of the mountains.
Grandmother Luba welcomed us on the staircase with a cigarette in her hand and invited us into the house with her deep voice.
It did not take us long to induce her to sing. She brought a panduri and chonguri and performed a number of songs. Despite her deep voice she could easily take high notes too. She sang the part of krimanchuli in Acharuli Maqruli.
Very soon the neighbors Mitusha Kikvadze, Nanuli Ramishvili, Tariel Kekelidze, and Dusu (Ambrosi) Kikvadze, the village mayor, joined our gathering in singing. They had not sung for a long time either, but they recollected various songs. We recorded Simghera Datiko Shevardnadzeze, Madlobeli, Dzveleburi Mravalzhamieri, Tsutisoplis Stumrebi Vart, Maqruli, Nigozi and others as performed by them. Grandmother Luba laid the table, and served delicious red wine from her cellar.
The impressions from our visit to Guria are indelible for each of us. I am sure that Ivane, the youngest member of our group, was filled with such strong the emotions that he will visit Guria again and again for years to come, and not alone, but together with his friends, in order to enjoy the beauty and open-hearted hospitality of this part of his motherland. But, here the rhetorical question arises as to whether they will still hear the songs we heard from these warm and affectionate old people.