In Tbilisi in March, 2003, I met a 72-year-old stviri (pipe) master named Elguja Mukhigulashvili. In September, 2004, I was able to travel to his village of Telatgori in the Kaspi district. In this brief expedition arranged by the International Research Center for Traditional Polyphony I was joined by Lela Makarashvili, staff member at the Conservatoire's Georgian Folk Music Department, and Elguja Dadunashvili, staff member in the folklore department at the Shota Rustaveli Georgian Institute of Literature. Video materials from this expedition were edited by Giorgi Tsomaia.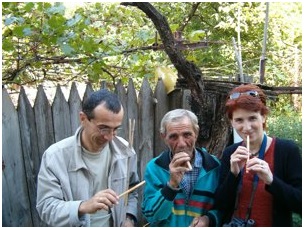 This expedition had a concrete goal: to record Elguja Mukhigulashvili describing the process of stviri-making, then record him actually making one, and then examples of melodies for the instrument. Besides this, we were able to collect various interesting oral ethnographic materials, folk arts, and examples of folk song and dance.
We knew about the stviri from the works of Ivane Javakhishvili, Kakhi Rosebashvili, Manana Shilakadze, Tinatin Zhvania and Ketevan Nikoladze. In 1998, Giorgi Michnigauri from the village of Akhalsopeli in Kartli prepared a similar instrument from stems of the sweetbrier ( rosa eglanteria) rose bush . As we know, in Guria and Samegrelo, wind instruments such as the larchemi-soinari panpipes are made from stems of phragmites communis trin (common reed), while in East Georgia they used the same material for making the salamuri.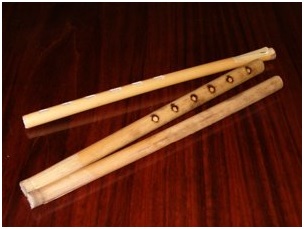 The stviri can also be made from dried stems of common reed. It is approximately 20-21 cm long, and 0.7-1cm in diameter. It has a tapered mouth-hole and six finger-holes. One performer may play two of these stviris at the same time, as with the sweetbrier stviri. The player blows the main stviri, which has finger-holes, at the same time playing a shorter, tongued stviri, which has no finger-holes. In this case, a simple drone-based polyphonic melody is produced.
Elguja Mukhigulashvili learned to play the stviri in his youth from a shepherd from the neighboring village of Lavriskhevi. Today he makes these instruments for children and for sale. He sometimes blows the stviri as a signal. He also plays traditional Georgian wrestling, dance, and other melodies. Children use his stviris as whistles during football and other games.
Material collected during the expedition amounts to 40 minutes of audio and video. Elguja Dadunashvili assembled and presented fragments of this material for a presentation of the project results arranged by Georgian and German researchers at the Goethe Institute. He also presented fragments during discussion of the creation of an information database at the Second Symposium on Traditional Polyphony.
Hardly any research has been done on Children's musical instruments by Georgian ethnomusicologists or organologists. Both, the simple design and everyday function of these instruments are very important and worthy of study to help determine the genesis of instrumental music.