In January-March, 2005, a two-part expedition was organised in Achara by the Open Society – Georgia Foundation and by the IRCTP. This expedition brought together musicologists and linguists for joint research, including Nino Makharadze and Ketevan Matiashvili from the IRCTP, Elguja Dadunashvili and Gizo Chelidze from the folklore archive at the Shota Rustaveli Institute of Georgian Literature, and Elguja Makaradze and Giorgi Makharashvili from the Georgian Literature department at Batumi State University.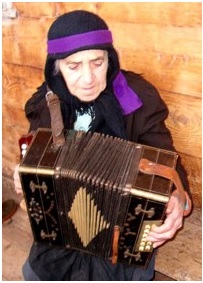 During the expedition periods, the team recorded eleven 80-minute minidiscs and six 60-minute digital videocassettes, and took 408 photos. This material, with complete documentation, is kept in three archives.
Despite difficult working conditions due to heavy snow in January and landslides in March, the team managed to work in twelve locations: Shuakhevi, Ghoreketi, Baratauli, Chvana, Khabelashvilebi, Chanchkhalo, Purtio, Lomanauri, Goginauri, Zvare, Kvashta, and Batumi.
The team recorded more than 40 oral performers of various age, four choirs (from Chvana, Purtio and Lomanauri, and the Tarieladze family choir from Baratauli), and shot video footage of local instrument makers (four chiboni makers, as well as panduri, doli and saz makers).
In Ghoreketi, the team observed a traditional engagement ritual in the Davitadze family, collected information on the traditions of Lazaroba, house building, mourning, and wedding rituals. At the Chvana Gorge, the team observed that to this day people use musical instruments while engaged in farming activities. They documented the traditional methods for making and caring for the chiboni, chonguri, panduri, doli, salamuri, saz, garmoni, accordion, and stviri, and learned the names of the various parts for these instruments. They also documented choreographic terminology and made video recordings of dances, chiefly performed by older villagers.
Among the songs recorded were traditional, Soviet-era, and modern folk songs: Orira, Qaranai Qanashia, Oisa, Khertlis Naduri, Evri Da Maspindzelsa, Qachaghis Leksi, Daukar Chemo Cheguro, Khorumi, Gandagana, Simghera Bakhmaroze, Acharav Chemo Samshoblo, and Ghorjomeli Viqav Gana. Additionally, video recordings were made of daily activities, crafts making, and other trades such as how to make a drop spindle for spinning yarn, how to make a sleigh, various traditional types of houses, a blacksmith's workshop, etc.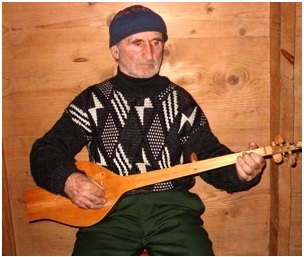 Unfortunately, none of the singers from any of the local folk groups can manage to practice anymore, whether formally or informally. This certainly threatens the preservation of Georgian polyphonic singing traditions in Achara. It is also unfortunate that many performers do not have chibonis, nor do they have the money to buy them.
Scholars studying Georgian-Turkish, Georgian-Russian, Georgian-Caucasian and Georgian-Jewish links will find fairly rich material, chiefly bilingual texts, in Achara. In our opinion this is very important from the standpoint of cultural dialogue.
The team was surprised to see a traditional Kurdish dance called Kurtbari, complete with local character and forms of performance. Another interesting and unusual event which the team documented on video was vocal incantations and readings from the Koran by Georgian Muslims, which to our knowledge had never documented before.
On May 20, 2005, a presentation of the materials collected during the expedition was held at the Open Society – Georgia conference hall. A photo exhibition was arranged, as well as video screenings of excerpts from the materials prepared by Elguja Dadunashvili and Imeda Maghlakelidze. It is hoped that the materials of the expedition will be useful for both research and practice.
The members of the expedition would like to thank Mr. Temur Zoidze, the local administrative head of the Shuakhevi district, and Mr. Vaso Khimshiashvili, head of the local cultural office. They would also like to thank everyone who helped realize this project.