The two volume collection "Anzor Erkomaishvili and Contemporary Trends in the Study of Traditional and Sacred Georgian Music" provides a comprehensive review of the current state of, and new developments in, Georgian ethnomusicology, from raising the tourist industry for lovers of Georgian traditional music to the peculiarities of teaching Georgian traditional music to countless choirs around the world. It presents a tribute to Anzor Erkomaishvili, a pivotal figure in Georgian traditional music, the author of many widely known masterpieces of Georgian traditional and church-song repertoires. The steadily increasing popularity of Georgian traditional music, both among professional ethnomusicologists and lovers of choral singing, provides an urgent need for this volume.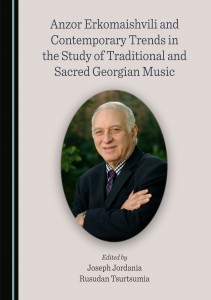 Publisher: Cambridge Scholars Publishing
Edited by Joseph Jordania, Rusudan Tsurtsumia
Vol.1 Contributors: Simha Arom, Stuart Gelzer, Joseph Jordania, Maka Khardziani, Matthew Knight, Giorgi Kraveishvili, Andrea Kuzmich, Teona Lomsadze, Meinard Müller, Nana Mzhavanadze, Sebastian Rosenzweig, Frank Scherbaum, Nino Tsitsishvili, Izaly Zemtsovsky.
The publication was prepared in partnership with the International Research Center for Traditional Polyphony of the Tbilisi State Conservatory.
The second volume is in press.